1 erstatnings løsning fundet
Eksisterende pumpe - Trykstigning
Produkt navn
Jet Active Inox 102 M
Pumpehusgange/-flange
Rp 25
Pumpehusgange/-flange
Rp 25
Bemærkninger
Eventuel justering af installationen, erstatningspumpe er i overensstemmelse med tilslutningsdimension.
Replacement pump with carrying handle.
Replacement pump is equipped with Wilo-HiControl (Automation accessory) - electronically controlled pressure and flow monitor for automatic switching on and off of pump without pressure tank.
Produktinformation
WJ 203 1~
WJ 203 1~
Artikelnummer : 4081225
VVS-nummer : 385576030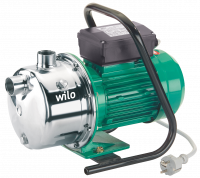 Dine fordele

Brugervenlig takket være lav vægt og kompakte mål samt praktisk bæregreb
Høj forsyningssikkerhed vha. god hydraulisk ydelse, selvansugende indtil 8 m, selv ved lav gennemstrømning
Robust konstruktion af rustfrit stål for lang tids drift, pumpehjul, aksel og hus af AISI 304
IE3-IEC-drejestrømsmotor (≥ 0.75 kW)
Konstruktion
Selvansugende centrifugalpumper med flere trin.

Anvendelse

Pumpning af vand fra brønde
Opfyldning, tømning, cirkulation, vanding og overrisling
Som nødpumpe ved oversvømmelser
Udstyr/funktion

Afhængigt af udførelsen med eller uden bærehåndtag
Til 1-fase-motor (1~ 230 V):
Tilslutningskabel med stik
Til-/frakontakt
Termisk motorværnskontakt
Leveringsomfang

Pumpe med eller uden bæreramme alt efter version
Monterings- og driftsvejledning
Tekniske data

Nettilslutning 1~230 V, 50 Hz eller 3~400 V, 50 Hz
Tilløbstryk maks. 2 bar
Medietemperatur maks. +5 °C til +35 °C
Driftstryk maks. 6 bar
Kapslingsklasse IP44
Tilslutning på indsugnings- og tryksiden G 1
Materialer

Pumpehus af rustfrit stål 1.4301
Pumpehjul af rustfrit stål 1.4301
Aksel af rustfrit stål 1.4005
Glideringstætning af keramik/kul
Diffusor/injektor af noryl
Tætninger af NBR
Bracket HiControl
Artikelnummer: 4027326
VVS-nummer: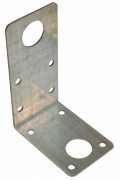 Mount HiControl:
Wall bracket for mounting Wilo-HiControl 1-EK.