1 erstatnings løsning fundet
Eksisterende pumpe - Trykstigning
Pumpehusgange/-flange
Rp 25
Produkt navn
HiMulti 3-25 P 1~
Pumpehusgange/-flange
Rp 25
Medietemperatur
+5 - +35 °C
Bemærkninger
Eventuel justering af installationen, erstatningspumpe er i overensstemmelse med tilslutningsdimension.
The replacement pump has a patented suction design, which means quiet operation and higher capacity. All fluid-affected parts are made of non-corrosive material.
Replacement pump is equipped with Wilo-HiControl (Automation accessory) - electronically controlled pressure and flow monitor for automatic switching on and off of pump without pressure tank.
Produktinformation
HiMulti 3-25 P 1~
HiMulti 3-25 P 1~
Artikelnummer: 4244149
VVS-nummer: 386722025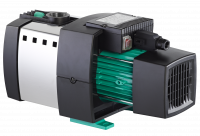 Dine fordele

Enkelt: Wilo-Connector (elektrisk hurtigforbinder), til/fra-kontakt, påfyldnings- og tømningslukninger, større fodfastgørelse
Effektiv: Højeffektiv hydraulik, lavt strømforbrug og meget kompakt takket være motoroptimering
Økonomisk: mindre motor for perfekt opfyldelse af kravene
Støjsvag (støjniveau mellem 56 dBA og 64 dBA)
Udførelse som Domestic-pumpe (pumpe til den private vandforsyning) med nyt pumpedesign
Konstruktion
Centrifugalpumpe med flere trin i selvoptimerende version (HiMulti 3) eller selvansugende version (HiMulti 3 P)

Anvendelse

Vandforsyning (brugsvandsgodkendelser iht. ACS og KTW, i S1-udførelse også iht. WRAS)
Overrisling
Vanding og sprinkling
Regnvandsudnyttelse
Udstyr/funktion

Direkte påflanget motor
Termisk motorværnskontakt ved version 1~230 V
Leveringsomfang

Pumpe
To stk. kunststofforbindere med pakninger til manuel tilslutning til rørene
Wilo-Connector (elektrisk hurtigforbinder)
Monterings- og driftsvejledning
Tekniske data

Nettilslutning: 1~230 V, 50 Hz
Till. medietemperatur: 0 °C til +40 °C (+55 °C i 10 min.)
Till. omgivelsestemperatur: -15 °C til +40 °C
Till. lejetemperatur: -30 °C til +60 °C
Maks. till. driftstryk: 8 bar
Maks. till. tilløbstryk: 3 bar
Kapslingsklasse: IP X4
Tilslutning indsugningsside: Rp1
Tilslutning trykside: Rp1
Materialer
Pumpehus af technopolymer med drikkevandsgodkendelse iht. ACS, WRAS og KTW
Pumpehjul og trinkappe af Noryl GF30 med drikkevandsgodkendelse iht. ACS, WRAS og KTW
Pumpedæksel og aksel i rustfrit stål
Akseltætning af keramik/kul
Bracket HiControl
Artikelnummer: 4027326
VVS-nummer: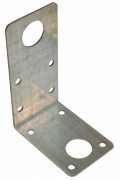 Mount HiControl:
Wall bracket for mounting Wilo-HiControl 1-EK.