1 erstatnings løsning fundet
Eksisterende pumpe - Cirkulation
Fabrikat
Robota, Smedegaard, VM Pumpar (Circulation)
Produkt navn
Vario T75 Z 3~
Pumpehusgange/-flange
G 50
Produkt navn
Yonos MAXO-Z 30/0,5-7
Pumpehusgange/-flange
G 50
Medietemperatur
0 - +80 °C
Bemærkninger
OBS! Ombygget af rør. OBS! 1-faset.
Denne pumpe er som standard udstyret med alarmudgang (SSM). Yderligere funktioner (ekstern tænd / sluk, ekstern drift indikation) kan tilføjes med den enkle installation af Connect-modulet.
Der kræves et tilslutningsmodul pr. pumpe.
Produktinformation
Yonos MAXO-Z 30/0,5-7
Yonos MAXO-Z 30/0,5-7
Artikelnummer: 2175540
VVS-nummer: 381203030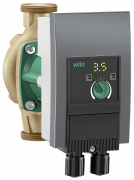 Dine fordele

Energibesparende i kraft af højeffektiv hydraulik og synkronmotor

Fuldstændigt overblik over løftehøjde, hastighedstrin og mulige fejl takket være LED-display

Enkel indstilling via tre hastighedstrin ved udskiftning af en ureguleret standardpumpe

Forenklet elektrisk tilslutning takket være Wilo-stik

Sikring af anlægsanvendeligheden gennem kombinationsfejlsignal

Kompakt konstruktion og den velkendte brugervenlighed
En effektiv løsning til cirkulation af varmt brugsvand i større bygninger.
Wilo-Yonos MAXO-Z er en effektiv cirkulationspumpe til hygiejnisk levering af varmt brugsvand i udlejnings- administrations- og erhvervsejendomme. Med sit LED-display giver den et komplet overblik over løftehøjder, hastighedstrin og eventuelle driftsforstyrrelser. Den kompakte konstruktion og Wilo-stikket til el-tilslutningen forenkler installationen. Den grønne knap muliggør en enkel betjening af pumpen.

Konstruktion
Vådløbercirkulationspumpe med skruet eller flangeforbindelse, EC-motor med automatisk ydelsestilpasning.

Anvendelse
Brugsvandscirkulationssystemer inden for industri og bygningsteknik.

Udstyr/funktion
Driftstyper

Δp-c for konstant differenstryk

Δp-v for variabelt differenstryk

n = konstant (3 hastighedstrin)
Manuelle funktioner

Indstilling af driftstype

Indstilling af pumpeydelsen (løftehøjde)

Indstilling af hastighedstrin
Automatiske funktioner

Trinløs ydelsestilpasning afhængigt af driftstypen

Antiblokeringsfunktion

Blød start

Integreret fuldt motorværn
Signal- og displayfunktioner

Kombinationsfejlsignal (potentialefri åbnekontakt)

Fejlindikator

LED-segmentvisning til visning af løftehøjde og fejlkoder

Visning af det indstillede hastighedstrin (C1, C2 eller C3)
Udstyr

Skruenøglepunkt på pumpelegeme (ved rørgevindpumper)

El-lyntilslutningskabel med Wilo-stik. For tilslutning af net- og SSM-ledningen, med integreret trækaflastning

Ved flangepumper: Flangeversioner

Standardversion til pumper DN 40 til DN 65: Kombiflange PN 6/10 til modflange PN 6 og PN 10
Leveringsomfang

Pumpe

Inkl. tætninger ved gevindforbindelse

Inkl. skiver til flangebolte (ved nominelle tilslutningsdiametre DN 40 – DN 65)

Inkl. monterings- og driftsvejledning
Tekniske data

Tilladt temperaturområde for drikkevand op til 3,57 mmol/l (20 °dH): 0 °C til +80 °C

Nettilslutning 1~230 V, 50/60 Hz

Kapslingsklasse IPX4D

Skruet eller flangeforbindelse (typeafhængigt) Rp 1 til DN 65

Maks. driftstryk, standardversion: 6/10 bar eller 6 bar (specialversion: 10 bar)
Materialer

Pumpehus af rødgods

Aksel: Rustfrit stål

Leje: Epoxy-imprægneret kul

Pumpehjul: Plast

Union G 50/32 Z
Artikelnummer: 2835293
VVS-nummer: 381288250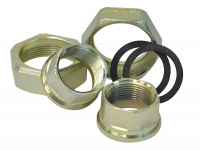 Afspærringsventil union G 50
Artikelnummer: 2835296
VVS-nummer: 381286050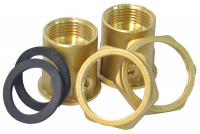 Connect-Module Yonos MAXO
Artikelnummer: 2210108
VVS-nummer: 381278250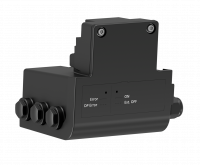 The Wilo-Connect module Yonos MAXO is a retrofittable plug-in module for Wilo-Yonos MAXO/Yonos MAXO-D/Yonos MAXO-Z pumps.
The Wilo-Connect module Yonos MAXO is installed on the electronic module of the pump at the position of the Wilo plug.
Utilisation of the Wilo-Connect moduleYonos MAXO dispenses with external contactors and other switchgears as well as the associated installation workload. The load of customer-side switchgears (relays) due to high starting currents is reduced to a minimum by the Connect module Yonos MAXO.
Equipment/function
Run signal display
SSM collective fault signal as potential-free NC contact
SBM collective run signal as potential-free NO contact
Overriding Off control input (External Off)
Integrated dual pump management with the functions:
Main/standby operation with runtime-dependent (24 h) switchover from main to standby pump
Fault-sensitive switchover to operational standby pump