1 erstatnings løsning fundet
Eksisterende pumpe - Borehul
Produkt navn
Idrogo 80/15
Pumpehusgange/-flange
Rp 32
Produkt navn
TWI 5 506 EM
Pumpehusgange/-flange
Rp 32
Medietemperatur
+5 - +35 °C
Bemærkninger
Corresponding connection dimension.
OBS! 1-faset.
Produktinformation
TWI 5 506 EM
TWI 5 506 EM
Artikelnummer: 4144952
VVS-nummer: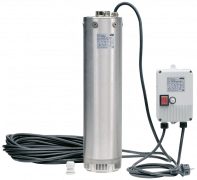 Your advantages

Highly efficient thanks to optimised hydraulics
Self-cooling motor (dry well installation out of the water is possible)
Single-phase current version, pre-assembled with switchbox and motor protection for an easy installation
Easy handling, maintenance and repair
Corrosion-resistant and low-wearing
Construction
5" submersible pump in stainless steel, multistage.

Application


Submersible pumps:
Pumping from wells, rainwater storage tanks and vessels
Irrigation, sprinkling and pumping out
Water supply
Rainwater utilisation
Equipment/function

20 m safety cable
20 m H07RN-F cable
Single-phase AC version
Pre-assembled with switchbox
Overcurrent protection of the motor
Scope of delivery

Pump with 20 m connecting cable
Safety cable made of polypropylene
Installation and operating instructions
Technical data

Mains connection 1~230 V, 50 Hz / 3~400 V, 50 Hz
Fluid temperature max. +5 °C to +35 °C
Max. operating pressure 10 bar
Protection class IP 68
Pressure-side connection Rp 1¼
Connection on suction side for SE version Rp 1¼
Materials

Pump housing: Stainless steel 1.4301
Impeller: 1.4301
Shaft: 1.4301
Mechanical seal: SIC/SIC and carbon/ceramic
Stage chambers: 1.4301
Diffuser/injector: 1.4301
Gaskets: NBR
Description/construction

Multistage construction complete in AISI304
ACS & WRAS certified
Double mechanical seal SIC/SIC
Detachable connection cable
Generously dimensioned water-cooled motor
Scope of delivery includes 20 m connection cable and safety rope
Bracket HiControl
Artikelnummer: 4027326
VVS-nummer: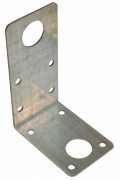 Mount HiControl:
Wall bracket for mounting Wilo-HiControl 1-EK.